About the Competition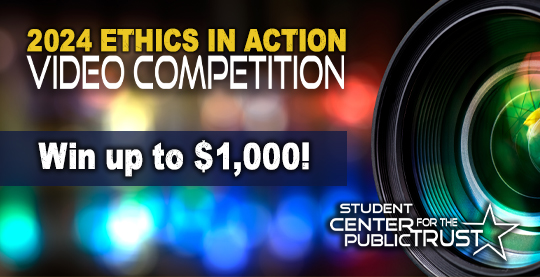 The 2024 Ethics in Action Video Competition is NOW OPEN! Please enter here. Official rules can be found here. You can view the 2023 Ethics in Action Winners here.
Goal of Video Competition
Have you ever been in a situation where the right thing to do was unclear? Ethical dilemmas occur every day in business. In these situations, knowing the right thing to do can be difficult because all choices have some undesirable consequences.
The CPT is focused on helping individuals identify and respond to ethical dilemmas in their careers. To support this goal, we're challenging students to create videos that demonstrate the types of challenging ethical dilemmas people could face in their careers.
Videos can end with a thought provoking question that challenges viewers to think about the best solution –OR- videos can showcase the solution they believe would be most appropriate.
Judging Criteria
Our panel of judges will review these videos and select winners based on the following criteria:
Originality: Videos should use original content, not excerpts from existing shows, songs, movies, etc.
Clarity: Video and audio should be easy to see and hear.
Relevance: Video addresses an ethical dilemma that is relevant to young business professionals
Critical Thinking: Videos should display complex ethical dilemmas that require viewers to use critical thinking skills to determine the best solutions. This is in contrast to videos that display ethical issues that have clear right or wrong solutions.
Sample Video Topics Include:
Conflicts of Interest
Legal, but Unethical Behavior/Decisions
Misguided Loyalty
Gender or Ethnic Group Inequality
Professional Skepticism
Competing Values
Ethical Diversity
Accountability
Transparency
---
Promotion of Video Competition
Instructors! StudentCPT members! If you would like to help spread the word about the Ethics in Action Video Competition, please check out the promo tool kit below.

---
How to Win
Winners will be chosen among the entries by a panel of expert judges that will include ethical leaders and subject matter experts. Viewers' Choice winners will be determined by the number of votes each video receives.
Category 1: Short Film (1-3 Minutes)
1st Place Grand Prize: $1,000*
Runner Up: $500*
Viewers' Choice 1st Place: $700*
Viewers' Choice Runner Up: $300*
Category 2: Commercials (30-59 Seconds)
1st Place Grand Prize: $800*
Runner Up: $400*
Viewers' Choice 1st Place: $500*
Viewers' Choice Runner Up: $200*
*Prizes will be distributed in the form of Amazon Electronic Gift Cards.
---
Who Can Enter?
This competition is open to undergraduate and graduate students at colleges, junior colleges and universities in the United States and its territories.
Rules and Restrictions
Participants may not use photo, video or audio clips from movies, television shows, songs, soundtracks or any other works that were produced and/or published by other companies or individuals, unless you are using royalty-free stock photo, video and audio clips that you purchased and/or obtained the rights/permission to use. Naturally, there are additional rules you must read, accept and follow in order to participate. CLICK HERE to read the Rules.